Staff from the Mexican Institute of Social Security (IMSS) as well as from the Institute of Security and Social Services of State Workers (ISSSTE) carried out a blockade due to the alleged lack of equipment to attend COVID cases 19.
Doctors, nurses and administrative personnel from different hospitals demonstrated in the absence of basic supplies such as mouth covers, gloves and antibacterial gel to face the epidemic of COVID-19 in Mexico. With banners and slogans they also demanded the basification of their colleagues and asked for compensation for relatives of colleagues who died of the coronavirus, for which they stationed themselves in front of the IMSS headquarters on Paseo de la Reforma and Liège in the Cuauhtémoc mayor's office, hoping to be attended by the health authorities.
Despite the presence of hooded people outside the protest, there were no riots in the area.
Traffic uniforms made the cuts relevant to traffic and streamlined roads at the point.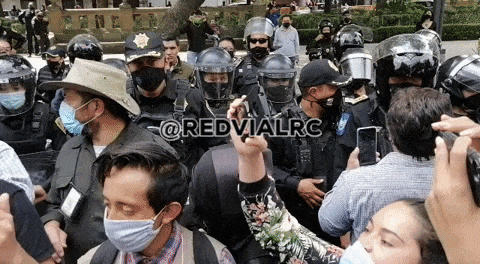 Writing: Imanol Arriaga